Wedding bouquets 2020 | 11 beautiful bouquets for brides
A bride without a wedding bouquet? It is rather impossible! A wedding bouquet is the proverbial "icing on the cake" in the image of every bride. So it's important that it blends in perfectly with the creation, but also the style of the wedding party. From year to year florists compete in ideas and make every effort to ensure that in each subsequent season the wedding bouquets are even more delightful and spectacular. If you are wondering what trends are and will be current in 2020, we have prepared for you the power of floral inspiration!
Wedding bouquets 2020: grass bouquets for the Bride
There is nothing more beautiful than delicate, subtle and light grass like feathers. And it is the grass in the coming season will be an absolute wedding hit! Spreading, fluffy and airy, with a variety of colors and forms, they are perfect as a complement to a wedding bouquet. Grasses blend in perfectly with almost all flowers – carnations, roses, eustoma and even peony.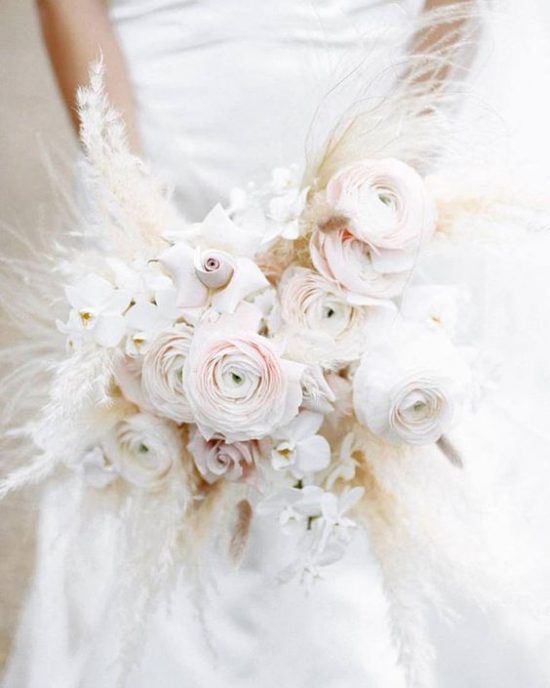 Wedding bouquets 2020: feather bouquets for the Bride
When choosing a wedding bouquet, it's worth taking care of the original and surprising accessory, which will be feathers in the 2020 season! This is undoubtedly a bold and non-standard proposal that will add a claw bunch and extravagant style. A wedding bouquet with the addition of feathers is definitely an offer for brides who want to stand out.
Wedding bouquets 2020: burgundy bouquets for the bride
Burgundy is a color for sophisticated brides. It is a color that returns to fashion every few seasons. We welcome him in 2020 with open arms, because this dark, deep shade of red always gives women nobility and dignity, even if it appears in accents, such as in wedding bouquets. Burgundy roses, carnations, dahlias or peonies – they will all be an excellent choice!
Wedding bouquets 2020: delicate bouquets for the bride
Pastel, delicate flowers against the background of a green base will not leave us in the coming season. This is definitely good news, especially for women who dream of a subtle and light theme. Such natural bouquets in bright colors will perfectly match the romantic bride and her flimsy dress.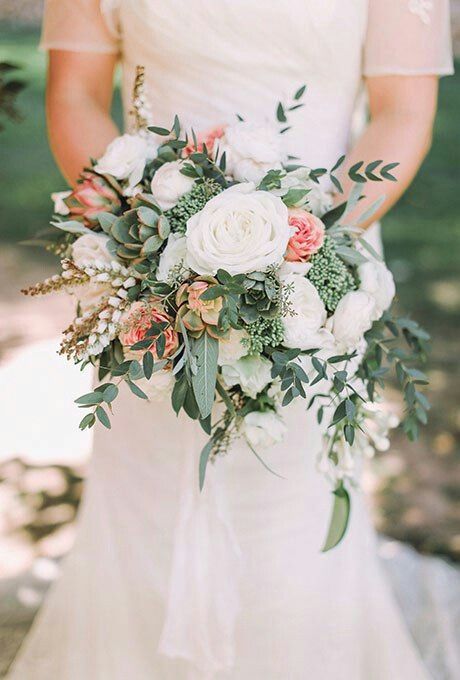 Wedding bouquets 2020: minimalist bouquets for the bride
For modern minimalists who treat the wedding bouquet as a subtle accent – modest bunches in neutral shades, like natural green and pure white. For bold brides who love rustic climates, we also recommend choosing only leaves or a handful of small field flowers. Plants are meant to be an ornament in themselves, so it's worth giving up any additional additions.
Wedding bouquets 2020: one-flower bouquets for the Bride
Or just choosing one flower? This is an extremely minimalistic option if we actually bet on one modest flower in a delicate color, or on the contrary – if the Bride chooses a very decorative flower in a strong color, like a long calla, a hydrangea made of small flowers, a holiday sunflower or an exotic protea. If you want to further emphasize the beauty of your favorite flower, add a ribbon or one leaf to it as a background.
Wedding bouquets 2020: peony bouquets for the bride
Peonies are the most-chosen flowers by brides in recent seasons. This year they will still dominate in floristic trends. This is not surprising: these round layered flowers are found in the most popular wedding colors (like white and many shades of pink) and blend beautifully with other flowers, e.g. roses. Peony wedding bouquets are constantly synonymous with girlish grace and natural elegance.
Wedding bouquets 2020: coral bouquets for the bride
Koral ( living coral ) is the color of the year 2019, but it will also be present in the wedding trends in 2020. If you want to be a fashionable bride, choose this juicy mix of pink with orange for the theme of the wedding and reception. In wedding styling, you can bet on coral shoes, makeup and a bunch. A coral wedding bouquet can consist of roses, gerberas, gladiolus, cloves or amaryllis. Flowers in a coral color combine perfectly with white, green, and burgundy.
Wedding bouquets 2020: bouquets of tropical flowers for the bride
A spectacular pink protea with petals that resemble spikes, an ascetic pattern referring to the fashion for succulents, an immature artichoke flower in a purple palette, or maybe banana or monstery leaves that will become a perfect base for multi-colored flowers? The more original and unusual the flower, the better. Brides who want to surprise their guests at every step should opt for a wedding bouquet of exotic flowers, remembering that they must be part of the theme of the ceremony.
Wedding bouquets 2020: white bouquets for the bride
White is the undisputed king among wedding colors. The wedding dress and its accessories are white, the decorations are often bathed in white, including the flowers. The choice is not accidental – the symbolism of this color refers to purity, innocence, nobility and beginning. At a wedding, he is always associated with class and elegance, which is why he is not afraid of changing trends. This year, we are returning to the classics, which is why white wedding bouquets based on roses, peonies, freesias, eustoma and hydrangeas will enjoy unflagging popularity.
Wedding bouquets 2020: cascading bouquets for the bride
If the Bride loves flowers and wants to make them a key element of her wedding styling, she can bet on large wedding bouquets, the size of which is influenced not by the size, but by the length of the flowers. Such bouquets can be created from climbing plants, such as orchids, but also finish the front part of the bouquet with long leaves and creepers that can reach the knees and even the feet of the dress. When choosing this type of bouquet, however, be careful that the floral composition does not overwhelm the bride herself.
CHOOSE YOUR WEDDING BOUQUET!
White, coral or maroon, minimalist or rich, tropical or wild, finished with feathers, or maybe grasses. Wedding bouquets in 2020 surprise with their form, type of flowers, color and style. It is important that every woman chooses a bouquet that will not only emphasize the character of the wedding dress, but above all the personality of the bride herself.

You May Also Like
18.03.2020
10.10.2020